The Intensive English Program at Texas Christian University (TCU)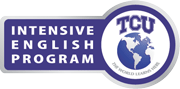 1-2 year Intensive English Program in Fort Worth, Texas
The World Learns Here
Texas Christian University's success in international education is recognized and celebrated! Our philosophy is condensed into a bold mission statement:
"TCU educates individuals to think and act as ethical leaders
and responsible citizens in the global community."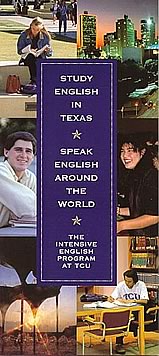 In 2012-2013, TCU was named a member cohort of the prestigious American Council of Education's Internationalization Laboratory, a program for global engagement. That same year, TCU began a 5-year strategic plan (Purple Passport) to comprehensively internationalize the university.
TCU's internationally acclaimed Center for Latin American Music Studies, Spanish and Latin American Studies, the Neeley School of Business, Communication, Education, Fine Arts, Science and Engineering, Health and Human Sciences, Humanities and Social Sciences…and Ranch Management Program provide a spectrum of opportunities for international students to reach their full potential as well-rounded global citizens.
International students join an inclusive campus of students already representing many different ethnic, economic and cultural ways of life in the United States. The international student body of TCU represents more than 80 different nations.
The Intensive English Program at Texas Christian University

The IEP plays an integral part in preparing the diverse International student body for success in their individual academic and business careers.
Learners study with professional English instructors four hours per day, five days per week in one of five different groups.
In addition to taking core-skills classes in Speaking, Listening, Writing, and Reading, learners gain English proficiency by:
accessing a digital learning laboratory;
sharing with native-English conversation and e-mail partners;
preparing for standardized TOEFL, TWE and TSE exams with teacher guidance;
participating in cultural and academic electives of interest;
informally auditing a University lecture course in an area of personal interest.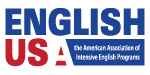 Besides having access privileges to the resources, extracurricular activities and athletic events on campus, IEP students are able to make full use of the health clinic, recreation center, writing center, library and computer labs.
On campus housing is available to students under the age of 25 and is encouraged for the IEP student who will be matriculating to undergraduate and graduate degree programs at TCU. Homes and apartments for rent in the TCU area are reasonable and have access to public transportation.
The Fort Worth Community
TCU is located southwest of downtown Fort Worth, just south of the cultural district and zoo. Fort Worth is home to diverse venues of art, science and culture; Kimbell Art Museum, Amon Carter Museum, Museum of Science and History, the Botanical Research Institute of Texas, a fine Botanic Garden and Japanese Garden… just to name a few.
Fort Worth's western heritage and traditions are preserved in the Stockyards National Historic District in the Wild West Shows and Rodeos, Cowboy Hall of Fame, rides on the Tarantula Steam train and celebrations dedicated to the Hispanic, American Indian, African American, Pioneer and Immigrant cultures that have made Fort Worth into the friendly, cosmopolitan center of international business and culture it is today.
Known as the city "Where the West Begins", Fort Worth is located 60 miles west of Dallas, Texas in the Northern part of the state. With a friendly population of half a million people, Fort Worth is consistently ranked among the top places to work, live and do business in the United States by national magazines like Money, Fortune, and Newsweek.
Fort Worth and TCU are easily accessible from major highways and are about 30 minutes from Dallas/Fort Worth International Airport.

---