Phoenix College

Community College in Phoenix, Arizona

Phoenix College is the oldest community college in Arizona. It is also designated by the U.S. Department of Education as a Hispanic Serving Institution (HSI) with almost 29% of our students being Hispanic. As a HSI, Phoenix College is receiving over $2 million dollars over a five-year period for the development of programs, services, and the use of technology in the classrooms to improve student learning and academic success.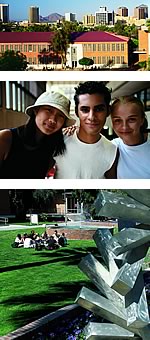 Phoenix College is proud of the cultural diversity that is represented in our student population. More than 1,700 students attending Phoenix College were born outside the United States speaking more than 40 languages other than English as their native tongue. Many Phoenix College faculty and staff members have international experiences and are able to assist students who speak a second language. Some of the languages spoken by our faculty and staff are: Arabic, Chinese, French, Russian, Serbo-Croatian, Spanish and Tagalog.
Phoenix College offers to international students:
Convenient location along major bus routes in central Phoenix
Over 200 Certificate, University Transfer Degree, and Associate Degree programs
ESL classes in grammar, reading, and conversation
State-of-the art computer labs
Small classes and personal attention from highly qualified instructors
International Student Center dedicated to providing a full line of services to the international student community in a single location
International Student Admissions requirements
All students desiring to attend Phoenix College on a student visa must apply for the I-20, Certificate of Nonimmigrant Student Status, from Phoenix College. The following process is required:
Complete the Phoenix College International Student Information form.
Take the TOEFL and submit official results to Phoenix College (4606).
Submit official high school transcripts verifying completion of education equivalent to a U.S. high school.
A financial guarantee (bank statement) with $16,900 available for your education must be provided. This amount may vary each year.
All documents must be translated into English and the financial guarantee must be in U.S. dollars.
---