Mesa Community College

Community College in Mesa, Arizona

Mesa Community College's vision is to foster intercultural competency, one student at a time. Their mission is to develop a Global Center through international "student services, study abroad programs, event programming, excellent service, and opportunities for internationalizing the campus with faculty partnerships to encourage global citizenship and student success.
Whether your goal is to transfer to a four-year university, complete a career program, or simply improve your English, Mesa Community College will provide it. With more than 25,000 students who attend Mesa Community College annually, over 75 degree programs to choose from, and an ESL program, Mesa Community College will provide you with an excellent educational experience. An accredited institution, Mesa Community College's International Education Program provides services to over 200 F-1 students from over 48 countries. We will support your needs with advising, workshops, programming opportunities, and a chance to meet new friends.
Why Choose Mesa Community College as an International Student?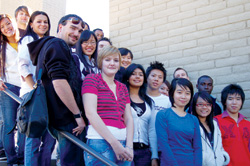 More than 75 degree programs
Credits fully transferable to other colleges and universities
Over 200 international students representing 48 countries
Transfer partnerships with Arizona State University, University of Arizona, Northern Arizona University, Brigham Young University, among others
Half the cost of universities, career and technical schools
Academic and immigration advisement and Intercultural Adjustment Counseling
On-campus employment and housing assistance
Multicultural/multilingual staff members
Large campus and small class sizes
Accessible computer technology and workstations around campus, including a wireless network and International student services support office with student lounge and computers for Skype, your "home away from home!"
Flexible class schedules and a comprehensive tutoring program
Outstanding English as a Second Language (ESL) Program, including a Conversation Partners Program
An active International Student Association, student clubs, trips, championship athletics, workshops, study abroad programs and cultural activities
Degrees Available
At Mesa Community College you can study for a transfer degree, or a non-transfer degree. The transfer degrees (AA/AS) are designed to give you all that you will need to transfer to a four-year university, and you will have completed the first two years of a Bachelor's Degree. For a list of over 70 Bachelor Degrees available for which you can complete your first two years at Mesa Community College, please visit our Degrees & Certificates page. A non-transfer degree will allow you to complete a program for a specific professional goal, and give you the tools you need to start or enhance your career.
Admission to Mesa Community College
International students are admitted for the fall and spring semesters only. Fall term begins in August and ends in mid-December. Spring term begins in mid-January and ends mid-May.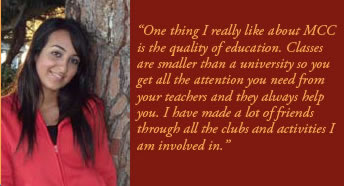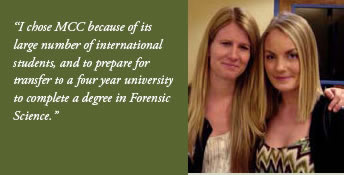 Submit the following in their original form:
Completed Mesa Community College International Information Form
Proof of English Proficiency (one or more from below)
For Academic Programs:

TOEFL – minimum of 500 or 173 (computer based test)
IELTS – minimum overall Band Score of 5.5 and a minimum IELTS individual Band Score of 5.0 in each module
STEP (Eiken) – minimum of pre-first grade

For Intensive English Program:

TOEFL – minimum of 400 or 97 (computer based test)
Or at least 6 years of English language instruction as shown by the applicant's school transcript(s)
Official high school (college/university, if any) transcript(s), with English translation
A completed statement of financial support with a bank statement in English and U.S. dollar equivalent.
A photocopy of ID page of your passport
Transfer students also need to include:
Photocopy of most recent I-20
Photocopy of I-94
Official transcripts from all U.S. schools attended
---